How to cool off in Scottsdale
Posted by Ryan Tollefsen on Thursday, June 23, 2016 at 7:47 AM
By Ryan Tollefsen / June 23, 2016
Comment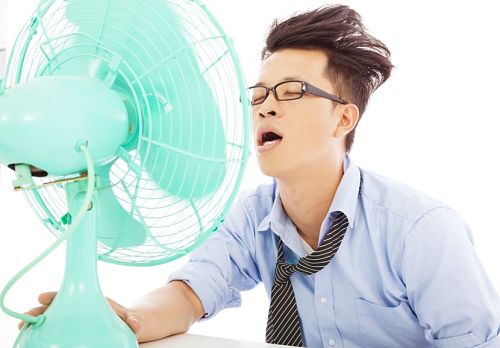 While it's cooler than in weeks past, the high today in Scottsdale is expected to reach 113 degrees. Another excessive heat warning is in effect. Yikes! Sure, we're used to the heat in the summer, but this is beyond what we're accustomed to. Of course you know to remain hydrated all the time but it's even more important in excessive heat. And, running the A/C 24-7 gets pricey. So, where to go on the weekends to beat the heat in Scottsdale? Read on.
Water helps
And not just the type you ingest. Take a cool dip at McDowell Mountain Ranch Aquatic & Fitness Center. Kids love the water slide (I happen to know some adults who do too!) and what's not to like about spending a hot afternoon floating down the lazy river? Get hours of operation and more online at the City of Scottsdale's website.
If you'd rather avoid chlorine, take the half-hour or so trip to Carefree, go 21 miles east and end up in the amazing waters at Rattlesnake Cove. No motorized boats will terrorize the little ones so you can spend an enjoyable day on the Bartlett Reservoir. Bring a grill or a picnic and plan on staying for the day. Entry is only $6 per vehicle. Learn more about Rattlesnake Cove online here.
Hunker down in a museum or two or three
You can make an entire day of museum hopping in and around Scottsdale. Start with the Musical Instrument Museum (4725 E Mayo Blvd. in Phoenix), where you'll find both ongoing and special exhibitions. Collection highlights include the Artist Gallery (featuring Maroon 5, Taylor Swift and others), the fascinating 3-D Miniature Symphony Orchestra Model and the "Recycled Orchestra" exhibit. Get hours of operation and more information online at mim.org.
While you're in Phoenix, swing by the Phoenix Art Museum where you can enjoy a world-class collection of more than 17,000 works of art from the U.S., Europe, Asia, Latin America and more. Photography and fashion design? Yes, you'll find those as well. For hours, prices and directions, visit the museum online.
Back home in Scottsdale, head to the Museum of the West ? a sure-fire way to bring out your inner Arizonan. Celebrating all things American West, the museum features rotating exhibitions of Western art, historic artifacts, and some special treasures on loan from collectors and institutions. Located in Old Town, you can learn more about this gem of Scottsdale by visiting them online.
Run away
Get out of town and into someplace a bit cooler. How about Prescott? With average high temperatures in July of 89, dipping to 86 in August, it's a far cry from our 101 and 104 degrees for both months (although they'll have highs of 84 and 98 this weekend). Or, if you prefer, it will be 86 degrees on both days this weekend in Flagstaff. Prescott can be fun in the summer with various events in the town square. And Flagstaff has museums and national monuments galore plus a historic downtown.
Malls and Movies
If all else fails, head to the nearest mall (air-conditioned) or a movie. Or, how about a mall that includes a movie theater? Harkins Camelview 14 is located at Fashion Square (7014 East Camelback) where you can also dine, shop and bask in an escape from the summer heat. The new "Independence Day" movie is showing, as well as "Free State of Jones," the Matthew McConaughey Civil War flick and "Finding Dory" for the little ones.
Keep cool out there!