3 easy tips to create your dream bedroom in your Scottsdale home
Posted by Ryan Tollefsen on Tuesday, June 28, 2016 at 12:56 PM
By Ryan Tollefsen / June 28, 2016
Comment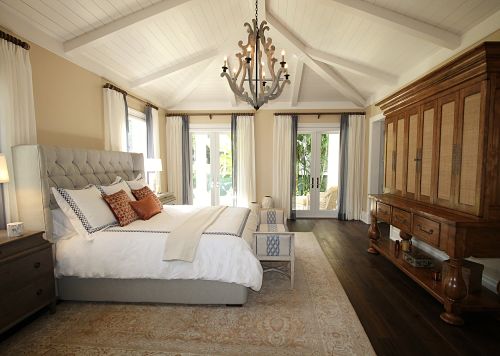 The bedroom should be so much more than a place to lay your weary body after a hectic day. It should be the place you can't wait to get to when you switch of the TV and drag your hiney down the hall at the end of the evening. It should evoke feelings of serenity and sanctuary – a getaway from everyone and everything.
Create your own dream bedroom by following these five easy, inexpensive steps.
1. Move the TV out of the bedroom
There are several reasons for this. First, folks that have the TV in the bedroom stay up later than those that don't. Next, neuroscientists have discovered that blue light – that emitted by TV and other electronic devices ? disrupts sleep cycles. "Changes in sleep patterns can in turn shift the body's natural clock, known as its circadian rhythm," claims Scientific American's Jessica Schmerler. She goes on to say that studies find that "shifts in this clock can have devastating health effects because it controls not only our wakefulness but also individual clocks that dictate function in the body's organs. In other words, stressors that affect our circadian clocks, such as blue-light exposure, can have much more serious consequences than originally thought."
So, drag that TV into the living room. Better yet, the basement.
2. Block out unwanted noise
You can do this in a number of ways, but we like the 8-minute long "Weightless," by Marconi Union. Known as "the most relaxing song in the world," according to a study performed by the British Academy of Sound, it is claimed your heart will sync with the song's 80 beats per minute, thus lowering your blood pressure as well. How could you not relax?
3. Create a bed fit for dreaming
Now that you've dumped the blue light-emitting devices before bedtime, blocked out unwanted noises with music from our friends on the other side of the pond, it's time to slip into something comfortable – a bed that is guaranteed to induce restful sleep.
Start with the sheets. Now what one person loves in a sheet may make another itch, so shop carefully. Thread-count isn't the end-all be-all when it comes to comfortable sheets. The ply and the weave of the fabric matter as well. Sheets are like art work, you'll know what you like when you see (or feel) it.
Top the sheets with a quilt, comforter or bedspread – whichever you find cozier – and the a pile of pillows thick enough to float on.
Of course there is a lot more you can do to create your sanctuary of a bedroom. Experts suggest you paint the walls green, add houseplants and add adjustable lighting so that you can raise it for reading and lower it for romance.
Paint the room green. Studies show green has a calming effect when used as a main color for decorating. A recent homeowner study conducted by Sherwin-Williams found that more than 60 percent of homeowners would consider adding shades of green into their home, with more than half saying they would use it to paint an entire room.